Well, I don't have a lot to share today, just another scrapbook page I did last week... I was on a little bit of a scrapping bug... It lasted two layouts :P
Once again, a fairly clean and simple page, I've used papers from Echo Park, and Kaisercraft. The MFT Die-Namic Picket fence die, which I covered liberally in Rock Candy Crackle paint. Some beautiful quotes covered in Glossy Accents, a couple of doilies and some paper flowers. I also did some journalling and it pulls out from behind the photo.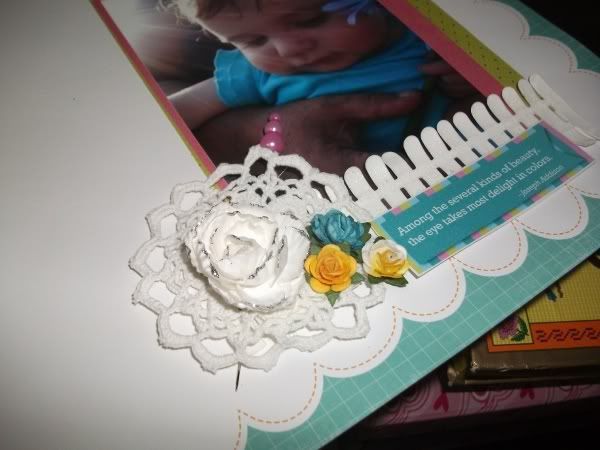 I took inspiration from the
Case File No. 31
,(Scheme: All colours used, Evidence: liquid medium (crackle paint on the fences, Glossy accents on the Bright Girl element, Stickles on the white flower...) Use a solid background + Use repetition of an element. Testimony: Inspiration Words: color, bright. Used in journalling about Brianna's bright future and her attraction to coloured flowers.) and also used the sketch from
Once Upon A ...Sketch
, which had the added twist of Seasons, this was a photo from Summer, with Brianna, and the colours I think really help the spring/summer feel :)
Thanks for dropping by lovelies!